KAMAKURA
Home Living Quarters Cooking Restaurants Interesting
Trips Osaka, Kyoto and Kobe Toronto Visit
Tokyo Asakusa Cherry Blossoms Chinatown Kabukicho O Daiba Sakuragicho Tsukiji Fish Market
February 23, 2002
I think I have found the perfect place to retire. Claire and I couldn't stop gawking at the houses while walking through neighbourhoods to the different shrines. The weather was perfect today! Visiting this old capital was amazing! Just over an hour away, this city has something interesting to see everywhere, sort of like a mini Kyoto. It has 65 Buddhist Temples and 19 Shinto Shrines, a view of the Sagami Bay and, of course no Japanese tourist place is complete without, tons of Japanese sweets.
First Destination: Hase Kannon Temple (Hasedera) Goddess of Mercy. I think my mom and Eini's mom would have really liked this place. It made me miss you guys. This temple was beautiful, it has all the Japanese trimming: Bamboo fencing, mini waterfalls, ponds with huge gold and white carps, wooden rafts, miniature stone turtle, etc. Think of something pretty to add to a temple, you've got it here. Though this place was delightfully pleasant to look at, it was different from my trip to the shrine in Hakone coz the latter felt majestic. It was grand in scale and set right in the old forest surrounded by massive tree skyscrapers. You get the gist.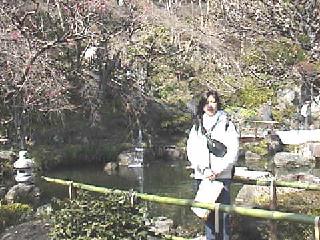 In case you don't know, Kannon (it was a mystery to Chris, Tom and I) is the Goddess of Mercy. The picture on the right, below, shows the 11 stages of enlightenment for the Goddess of Mercy.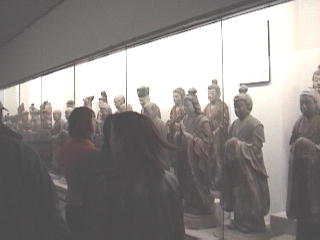 Chris, if you haven't found out yet, San-ju-san refers to the 33 reincarnations of buddha. I wish I can remember the story from the Hong Kong series that I use to watch as a kid. I sort of recall the fact that the Goddess of mercy kept getting reborn into someone else. Mom, if you have time, pls tell me the story all over again. It sounds quite interesting....or you can just rent the tapes for me all over again!
Mom, hope you liked the monkeys I sent you.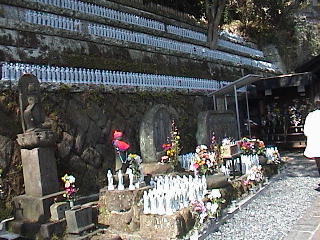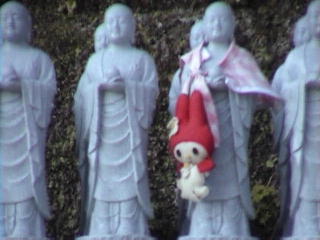 In this temple, you will see rows and rows of small statues called jizo, bottom left. Though it makes the temple look interesting, unfortunately each statue represents an abortion or a still born. Claire and I saw ones with Hello Kitty or Miffy or they would be all dressed up for the winter.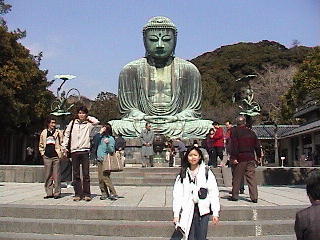 Dai Buttsu. Not that impressive though you hear about this temple the most. Maybe coz I went to Lantau island and that Buddha was a lot bigger. You can go inside this one too, but you walk down a small flight of stairs at the base and that's about it.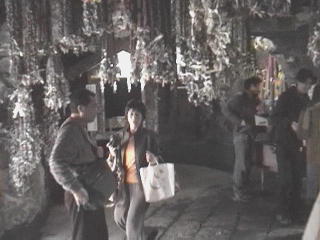 Walked 1.7 km to the money washing temple, where you wash money in baskets in a cave. Claire and I stopped here for a rest. (outside the cave)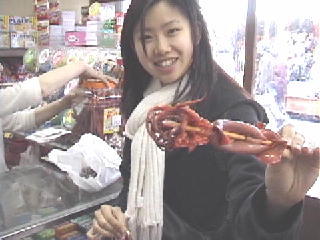 Yes, I ate that squid. It was a bit sour...but recently found out those type of snacks are eaten while consuming alcohol...I wonder why. I bought this squit along the "shopping street", stuffed ourselves with junk food that we bought and all the free samples. Both of us had only junk food for lunch. Don't worry, the "junk food" I'm talking about are sweet red bean paste stuffed castellas, crepes, candies, sweet potato croquettes, etc...I love Japanese sweets.
Claire and I split up, while she went to the art gallery, I checked out the huge temple beside it. Hase Konnon was the best one I think of that whole day, but there's still two more temples I haven't see but am waiting to see it with my sis.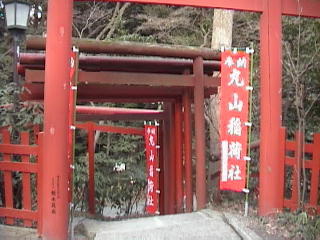 These are just some more scenic stuff I saw while wandering on my own.