Osaka, Kyoto and Kobe
Home Living Quarters Cooking Restaurants Interesting
Trips Kamakura Toronto Visit
Tokyo Asakusa Cherry Blossoms Chinatown Kabukicho O Daiba Sakuragicho Tsukiji Fish Market
The following entry was originally intended as an email and since I'm too lazy to change it...(I just bolded places of interest)
OSAKA, KYOTO, KOBE February 8-11, 2002
Here's what happened in Osaka. It snowed.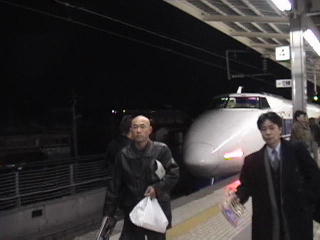 Here's a frontal shot of the infamous bullet trains, or Shinkansen, as it's known here. I took this for the first time to Kyoto, but I took an overnight bus back to Tokyo. The overnight bus is just a bit more roomy than the Safeway buses that I use to tourguide in.
Feb 8th, Friday, arrived @ station and got picked up by hot Aussie, Ken, Chris' friend. (btw, he's on the mailing list, so I'm sure he'd appreciate the description). They took me to an Izakaya called DaiButsu or in English BUTTU Trick Bar with lots of yummy fusion dishes.
Saturday, left to my own devices, and with Ken's detailed instructions, explored Kyoto on my own. Japan's cultural centre, it has nearly 2000 temples and shrines in the city alone. (And I was impressed with Montreal's 300 churches). Basically, if you have certain places that you REALLY want to see, stick to a planned itinerary, otherwise you can easily be sidetracked by the dozen or so temples that you just happen to be walking past on your way to your next destination. It's also the perfect city to just wander around and surprise yourself with whatever cultural thing that crops up. This city is beautiful, it's surrounded on three sides by mountains, so it's a pretty contrast from Toronto and Tokyo. My first day in Kyoto, I chose to see: Kinkakuji, Kyoto National Museum and Gion.
1st site I hit was Kinkakuji, a really well known temple, the pavilion is covered in gold leaf. I took the picture of the crane at the temple grounds. They also had a zen garden here.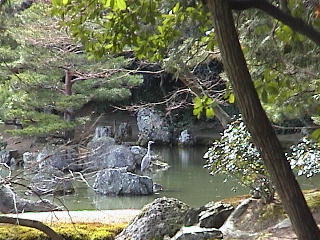 Then took a bus to the museum, (city buses are actually a really good way to take in the scenery). As luck would have it, admission was free the day I decided to go.
Decided to get lost on way to Gion, ended up at Kiyomizudera Temple. ALLIE, I'm sure you remember that this is where you took me. The scenery's beautiful by day as well; you can see most of Kyoto from this shrine. The path leading here is filled with little souvenir and specialty snack shops. One particular shop just kept refilling boxes and boxes of these famous Kyoto deserts. Shaped like a wonton, it's mochie on the outside filled with cinnamon flavoured red bean paste. (or strawberry, or sweet potato, or green tea, …) So obviously I took my time and sampled ALL their products. I did end up buying a small pack…
Then went to the Gion district, the Geisha entertainment quarter, walked through a very short street but the buildings here were exactly like how I pictured Kyoto after reading Memoirs of a Geisha. They were low, wooden structures with small second stories that ran down the street attached to each other. This is a very poor description, so I recommend reading the book instead. I saw a geisha here walking down the street really quickly with an assistant. Everyone stopped to discretely take a picture but of course I shamelessly chased her down instead. I wanted to take a picture of her with my cell phone since I got pics of other geishas with my camcorder. So as I stumbled with my Japanese repeating "Shashin o…, shashin o…" (meaning picture in English), the geisha's assistant just shook her head and hand telling me to get lost very politely. (Yeah, so my Japanese still needs some work…)
EINI, CHRIS, GALLAN, that incident reminded me of Gong Li in Montreal! Ha Ha.
Since my cell is useless in Canada, I thought filling it with pictures of Japan would make it the perfect souvenir, but the subject HAS to be standing still! =(
Saw 5 geishas in total that day. Ken said they were most likely Maikos instead of Geishas since they were out on the street, whereas the real thing usually stays indoors.
Mitsuko, one of the secretaries at my school said they were probably tourists who paid a lot of money to dress up like geishas and walk around the temples and shrines. Now that I think back, I'd say four of them were probably fakes but the one who snubbed me has to be real. These are the fake ones...I think.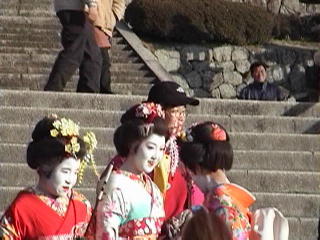 These vending machines were down the road from Kiyomizudera.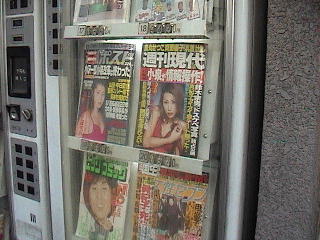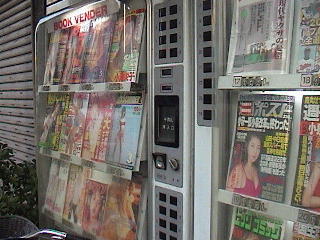 Took the train back to Osaka to meet up with Chris and friends for dinner. Then went clubbing. Japanese people really get all decked out. They dress so extremely …what's the word….basically they look exactly like what you see in the videos but they're Asian instead. Even at the hip hop clubs in Tokyo, it's so unbelievable how well they imitate what they see on BET (or the J channel equivalent).
Anyway, next day, Ken and Tom were kind enough to show me around since Chris was a poor hostess and decided to NOT call in sick while I was in town. *sigh*, good friends are hard to find these days. J/k
Grabbed a quick lunch at a Japanese style fast food joint, Matsuya, (basically the shop is big enough for one long counter. J ppl sit along it to gobble-up whatever dish they ordered from a vending machine that dispenses a ticket with their order that they then hand over to the counter person).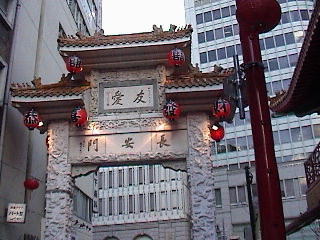 Anyway, they took me to Kobe, the city that was hit with one of Japan's worst earthquakes in January 1995. They had a small Chinatown here (relative to the one in Yokohama near where I live) filled with street food vendors but this one had more choices and seemed more like a Chinatown….maybe coz it wasn't as clean. There's a lot more garbage left on the streets in Osaka then in Tokyo. Just a minor observation, guess it's similar to Vancouverites when they visit Toronto, that's the first thing they notice when I ask them for comparisons.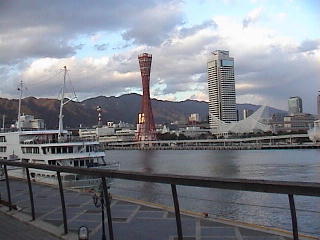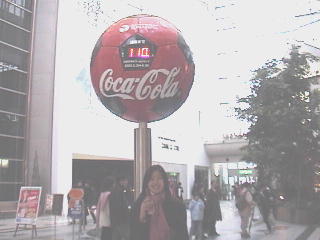 I also went to Harbour Land and it was a really nice view. Kobe also had mountain sceneries in the background. The Coke Soccer Ball is to promote the FIFA, World Cup, some of the games are held in Kobe, but I think the final game is in Yokohama, 30 minutes from my apt.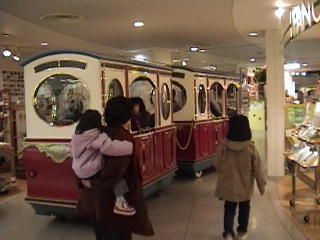 Saw this in a mall near Harbour Land. Ken and Tom wanted to bud in front of the kids and hop on. How childish.
Discovered Sashimi burger joint, SOOO good. Imagine small black poppy or sesame seed buns with raw sashimi (salmon, tuna, red snapper, salmon eggs, etc.) with lettuce and (my favourite ingredient with raw fish) green laviate, shiso in Japanese. We weren't hungry after pigging out in Chinatown on street food but we HAD to try this! So we ordered three different burgers and split them up so we can sample as many as our stomachs would allow. I wish I knew if there was a shop like this in Tokyo.
Turns out a couple of the secretaries at my work saw a special on this Sashimi burger shop. Looks like it is original to Kobe.
Met up with Chris after and went to Spa Land. The self-proclaimed largest Onsen in the world. It's not really an Onsen coz the water's not from a hot spring so the proper name for these baths is Sento, Bath House. J ppl come here to get relaxed and completely naked with each other. (Thought I'd bold naked to get the attn of those who skim or skip my passages) Anyway, 8 Floors in total, it's a themed Spa. Chris and I got the Asian theme while the guys got the European theme. I wish I could've taken pictures of the baths (apparently, so did Ken and Tom) but I didn't want to get deported for being a pervert so I have to resign myself to the flyers advertising this place. If you are really curious, check out their site, www.spaworld.co.jp Anyway, to sum it up, picture an outdoor Japanese nature theme bath in the middle of winter (too bad it wasn't snowing then), an Indian theme with individual bathtubs that massages you with their water sprays, Chinese baths with ginseng, buckets of green clay that you're suppose to pour/rub all over yourself and let soak, saunas, etc. This was one of my favourite experiences in Japan so far. Other facilities they had but I didn't have time (or proper attire) to try include co-ed swimming pool with waterslides, workout facilities, restaurants, personal massages, etc.
I swiped some toothbrushes that were lined with toothpaste. They have body cloth scrubs and Shisheido products for you to use too. UGH! Writing about it makes me want to go back NOW! Plus the spa has a promotion until March for just sen yen, that's less than $15 per visit for all that stuff!
Anyway, the next day, Chris finally decided to allocate some time to me… We went to an all-you-can eat DIM SUM BUFFET called Mama's Chufang!!!!!! I was in heaven! I kept the receipt coz it listed everything that we ordered (it's a pretty long receipt). I tried using my mandarin coz they had Chinese staff but we were hopeless with the Japanese menu without Ken who was at work at the time. Besides pointing to the dishes of our neighbours we just randomly picked from the menu. Got SOOO full!
Went to Kyoto afterwards and this time just wandered around. Discovered so many side streets and beautiful temples. Still want to go back to try their vegetarian fares. We only planned on one destination, San-ju-san temple, but by the time we got there, the temple was closed (see what I mean if you don't stick to an itinerary in Kyoto, so easily distracted).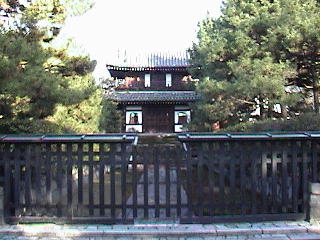 Mystery temple, discovered by wandering aimlessly in Kyoto. That's Tom.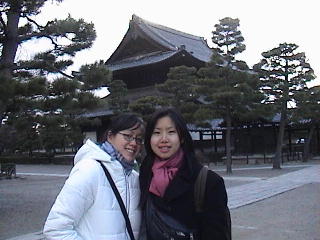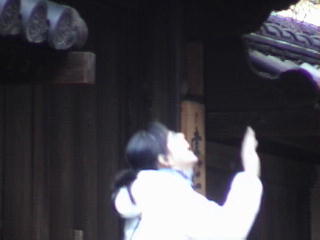 Chris and I. Chris trying to touch the shingles, you're suppose to be able to see snow falling beautifully and peacefully around Chris...suppose to alright.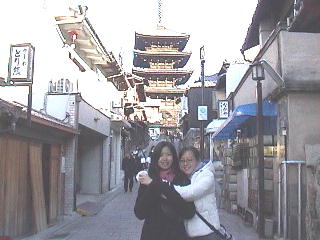 Here's another temple that we found while wandering aimlessly, looks like Kiyomizudera but smaller. The dolls hanging on the string were everywhere down this one road leading to that temple. Almost like one outside each door or shop.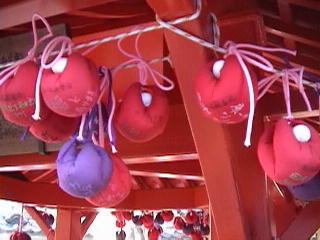 Here's a closer look. This was at a small shrine along that road.
Anyway, I originally planned this trip to be my last coz I want to visit other parts of Japan, but I had such a great time, I really want to go back. Besides, I still have to check out that temple that was closed plus heaps more, and try out Kyoto's tofu, and eat every dim sum dish on that menu and go to Spa world again. Plus hearing Chris and Tom insensitively repeating how they can always come back next week really made me itching to see all the things I've missed and revisiting all the places that delighted me!
To top off the whole weekend, Ken threw a Chinese New Year's Eve pot-luck party at his place. He made soup and some Malaysian chicken dish that I can't remember the names to (sorry Ken, I know you emailed it to me, but forgot to write it down) but they were spicy and delicious. Chris made Mao Po Tofu (straight from the pack) and fried rice. I made Almond tofu (straight from the pack) and Black Bean Salty Fish (straight from the can). Felt really good to have huge home cooked meal. Made my Chinese New Year really special.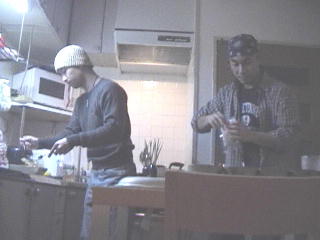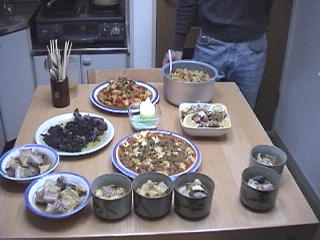 Here they are preparing the food, and voila.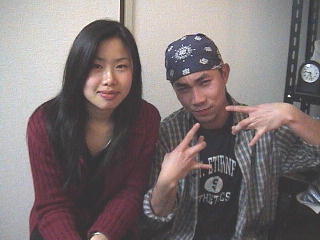 Here's Ken.
Before they dropped me off at bus stn, Ken had a CNY surprise….firecrackers. I had the privilege of holding it and accidentally aimed it at their friends who came out to the balcony to watch… oops.
So that's that. I'm sure some of you didn't read any of it but I didn't want to cut anything out.
Still miss home a lot but also enjoying myself so don't worry. 'til next time, pls send me updates on you. I love reading all of them even if you guys just keep saying "same shit".
em