PENIS FESTIVAL
or in Japanese KANAMARA MATSURI (Festival of the Steel Phallus)
Home Living Quarters Meet the Players Cooking Restaurants Interesting
Trips Osaka, Kyoto and Kobe Kamakura Toronto Visit
Tokyo Asakusa Cherry Blossoms Chinatown Kabukicho O Daiba Sakuragicho Tsukiji Fish Market
Close call. Nearly missed this event coz it wasn't advertised on the Metropolis like last year. Thanks to Gina and Yukiko, I knew about it just in time to make it on Sunday. (April 7th.)
And since I knew about this festival through Gladee, I got you something from here, hope you'd like it! Just remind me to give it to you.
So, from a giant pink penis to a penis museum, from drag queens to penis' carved from radish...
Keeping me company, one of them thought we should just follow the crowd of gaijins after getting off the train....well, who would have thought that all of them would be heading to the wrong temple. At least it made us discover the small little stores lining the street to the more famous temple (which Purdey and I went to after the festival).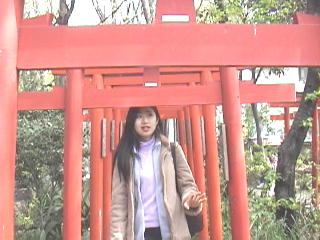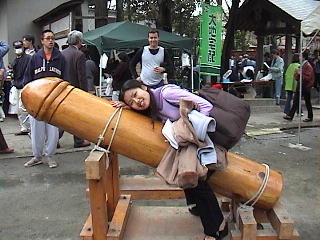 More pics of me. I copied other girls by getting a picture of myself lying on the "rocket", but then so did 50 million other gaijins who started clicking away at their cameras when they saw me make that pose! So maybe this pic is on other websites regarding the Penis festival for 2002! aiya.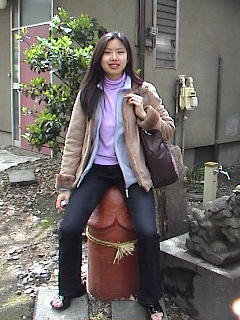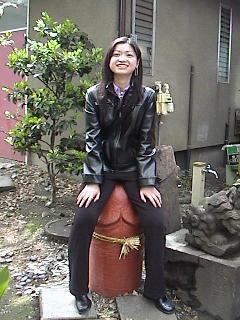 Can you tell what we're sitting on? A little obscene, but hey, we copied other people again. I had a group of gaijins laughing at me while I did this, but then they copied me and did the same thing for their pictures.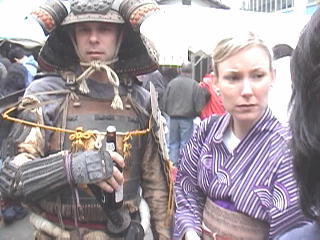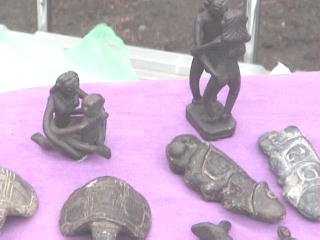 He's a samurai. She's dressed in a kimono. I would say about 80% of the crowd were all gaijins, and most of them were in some kind of Japanese kimono....but he was the only samurai I saw. What was he thinking? Those were small figurines being sold, I think most of them were probably from other ethnic countries but that they just sold it here coz it portrays sex, suitable memorabilia for a penis festival.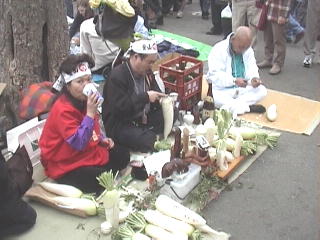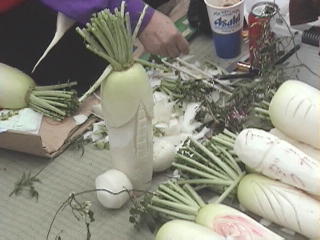 Here's the radish carving penis activity that we read about. They auctioned them off afterwards, but we didn't stay that long....I would have bought one for a souvenir but I doubt I can bring it back to TO so I got Herman instead.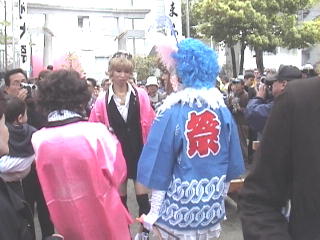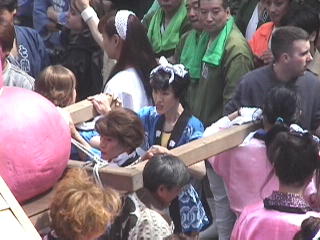 I thought they were just drag queens but reading their leaflet now, it says that they are transvestites.
Letter for Letter:
To those who taking pictures of us(transvestites)
We heartly thank you for taking picutures videoes and/or movies of our beautiful actions and poses. We are the members of "Elizabeth Club", locating at ASAKUSABASI TAITO-KU,and non-professional TV's, which mean amateur crossdressers. We are doing this performance just for pleasure, enjoying every day. We are very glad if you could send your today's wonderful results to the following address. why don't you come to our club for enjoying crossdressing if you are male.!!
Below is the infamous Pink Dick on it's way out to make it's round around the block (town?).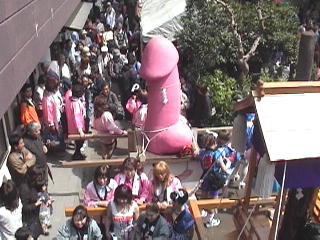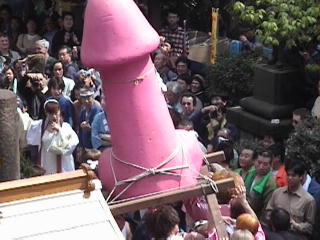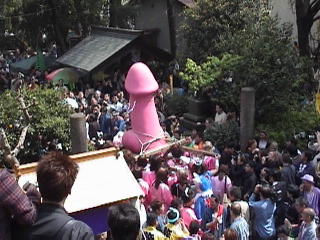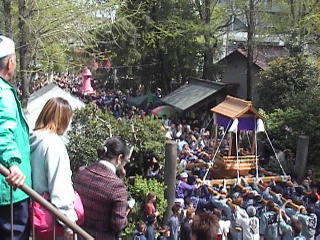 It was a small temple, but tons of people showed up that day.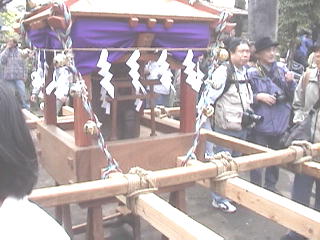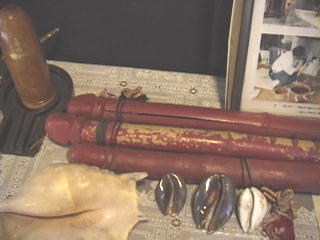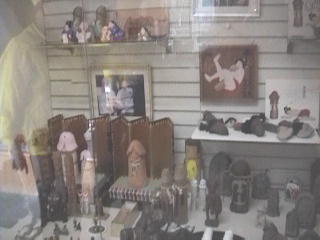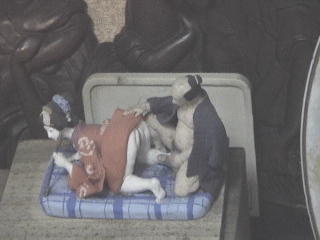 I think this was a small museum. I thought most of these figures were made in contemporary Japan for this particular festival, but Gina tells me that these are most likely antiques before they were temporarily banned during the Edo period.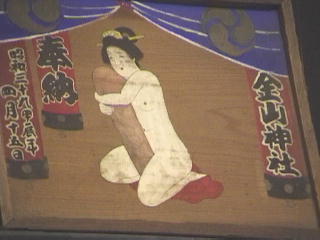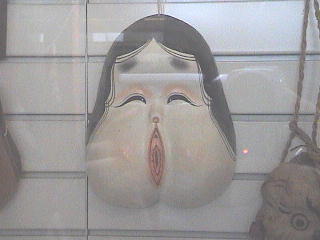 I rather not explain the significance of each picture, so if you don't get it, sorry. But for the next three rows of pictures, the one on the right is the view under the one on the left.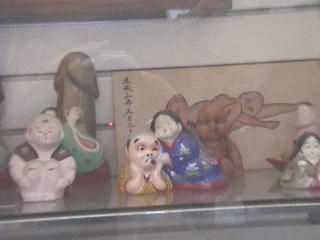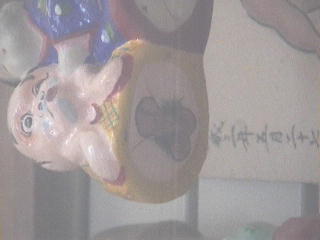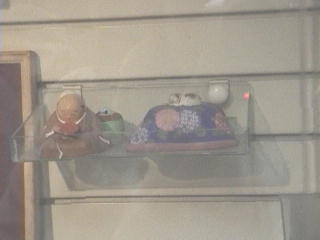 The table above with the blue quilt and small animal sleeping on top is called a kotatsu. It's really comfortable in winter coz there's a heater under the table for people to get nice and toasty....which I guess is what the couple is feeling under the kotatsu.....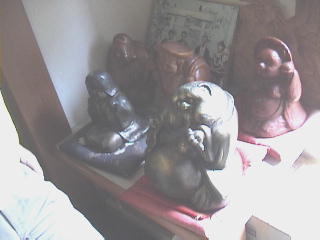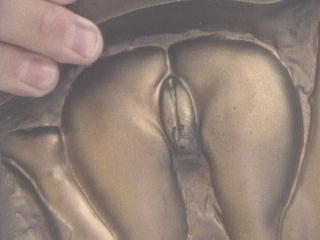 I thought that mole above was a guy...but according the right picture here, he's a she!
The ones on the left are made from mochi...that box was selling for 1000 yen, $12. I would have bought them if they could have lasted me til Elisa got here. The candies on the right can last til Christmas.
And here's Herman. Try to figure out why I named him/her that.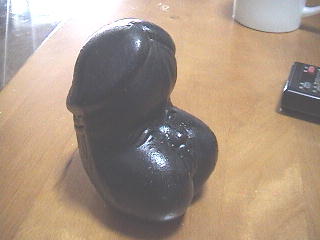 And for those of you who are interested in the history of the penis festival, I saved that for last. So word for word, from a leaflet that they were handing out:
Kanamara Matsuri (Festival of the Steel Phallus)
The festival traces its origins to the Edo Period, when Kawasaki's ladies of the night prayed for success in their business and protection from syphilis. At cherry blossom time they would gather baskets of bamboo shoots and other spring delicacies, carry the shrine's phallic image in procession through the streets, and then sit down on mats spread in the shrine courtyard to enjoy a merry banquet.
As the years passed and the festival has become known in other lands, the foods consumed have changed, and now the sexual ailment most on people's minds is AIDS. But in joining together to celebrate the advent of spring, people today maintain a close connection with their roots in a simpler time.
So welcome. Whether your prayers be for success in business, healthy progeny, a fertile marriage, wedded bliss, an easy delivery, or personal good health, Kanamara Shrine is still the focus of the faith of the community, as it has been for centuries.
And if your beliefs do not allow you to pray in the Japanese fashion, we hope you will still give generously to support our campaign to alleviate the plight of sufferers from HIV and AIDS.
*****************************************************
But when I spoke with some of my Japanese friends, almost all have never heard of this festival, and two admitted that they felt a bit ashamed. Oh well, it's for a good cause, or so they say. Of course some things were a bit more graphic to get more attention or to create a bit of excitement and awe but overall, I think it's a good thing. A tourist trap, perhaps, but I had fun =)